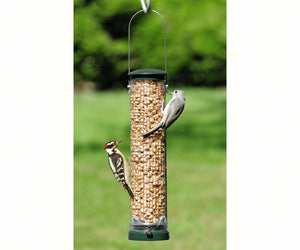 Aspects' Quick-Clean Peanut Mesh Feeder is for acrobatic birds such as woodpeckers, chickadees, titmice, nuthatches, and finches, which can cling to feeders without perches.
When filled with shelled peanuts, mixed nuts, or sunflower kernels, the Aspects' Spruce Quick Clean Peanut Mesh Feeder is irresistible to the most entertaining group of birds.
With a Quick-Clean Base that is easily removable, keeping feeders clean for your birds has never been easier.

All Aspects feeders are backed with the Aspects Lifetime Guarantee to ensure years of enjoyment.